URL copied to clipboard. Send it!
---
---
If you're lucky enough to live in or near Ventura, you already know Olivas Links is a gem. But if you haven't had the pleasure, you've got to go check it out. Think of it this way: you could easily spend an hour-plus sitting in traffic on your way to an LA course, or you could spend the same amount of time on the 101 and tee off on one of the prettiest courses around, in one of the most temperate climate zones, to boot. It's a challenging layout with lots of different looks, yet your score typically ends up lower than you expected—and so does the price.
Pros & Cons
Forgiving fairways, memorable holes, big greens with fun contours, excellent playing conditions, no homes on the course.
The tough par-4 16th can leave a sour taste, clubhouse is basically a trailer.
It's hard to find anything really wrong with Olivas Links. An outstanding golf course, especially for the money.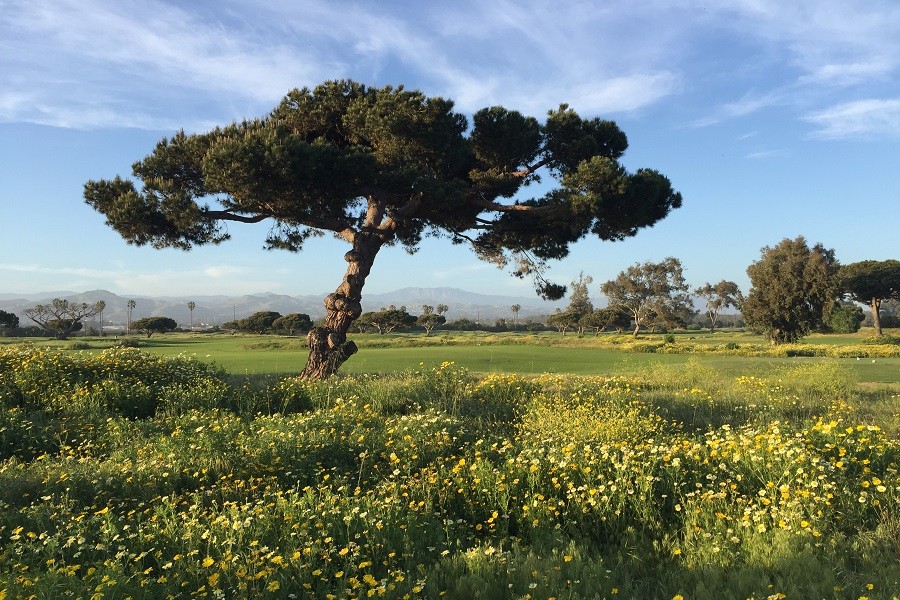 Intro to Olivas Links
You may be surprised by how far back Olivas Links' history goes, as it feels like a fairly recent design when you're out playing it. The current design is indeed recent, but the property has hosted a golf course since the 1960s. Back then it was a 27-hole layout, but flooding wreaked havoc in the '70s, and although the city of Ventura subsequently rebuilt the track as an 18-hole course, its condition was poor at the turn of the millennium.
Olivas was a basket case before its thorough redesign in the 2000s.
Enter course architect Forrest Richardson, who was tasked in the early 2000s with restoring the property. According to Richardson's own summary of the project, Olivas was a basket case when he started working on it, beset by drainage difficulties and sickly trees. Ultimately, not a single hole from the old course carried over to his redesign, which opened for play in 2008. Linksy and uncontrived in feel, today's Olivas is really only missing a respectable clubhouse—presumably Richardson's vision didn't include the pair of portable trailers that currently serve as the pro shop and restroom.
Playing Olivas Links
Blue Tees (6,530 yards)
A difficult first hole can be unwelcome, especially for those who lack the time or inclination to warm up at the range beforehand. Happily, the par-4 first (351 yards) doesn't really have teeth. Sure, you could flare your drive into the cabbage on the right, but bang it left and the adjacent 9th fairway will bail you out, with nary a tree to block your return path.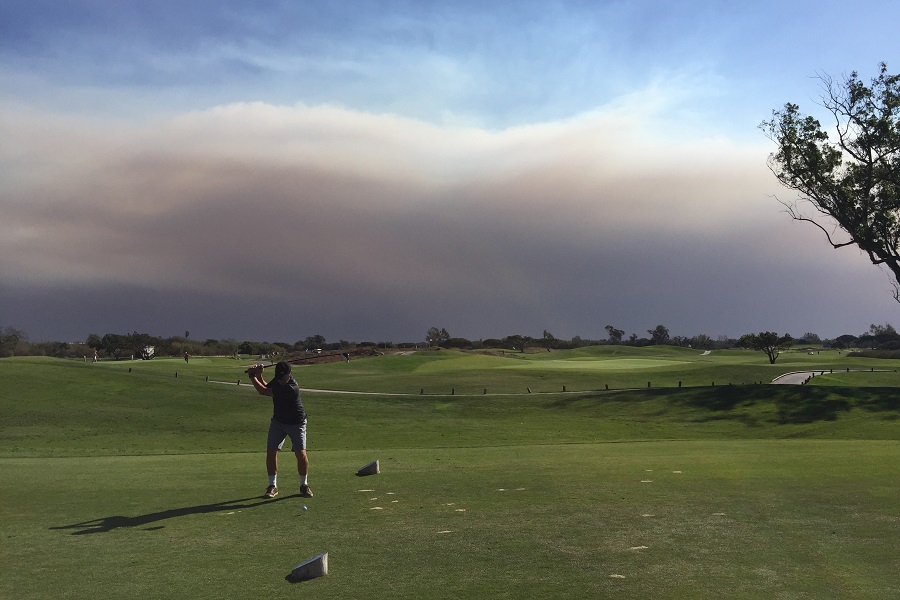 The teeth come out on the 529-yard par-5 second, especially if it's playing into the wind, which is common. Cover 400 yards accurately with your first two shots and you'll be in position for a short-iron approach into the roller-coaster green, but there are no easy wins here. Par is an impressive score; it's the number-four handicap hole on the scorecard for good reason.
The par-4 third (356 yards) is similar in yardage to the first but more difficult, featuring multiple bunkers and a tiered green. Heading back toward the clubhouse now, the par-5 fourth (510 yards) gives you a good chance to pick up a stroke, but the elevated green means you'll have to carry your long second shot the full distance, while the putting surface itself has many humps and slopes.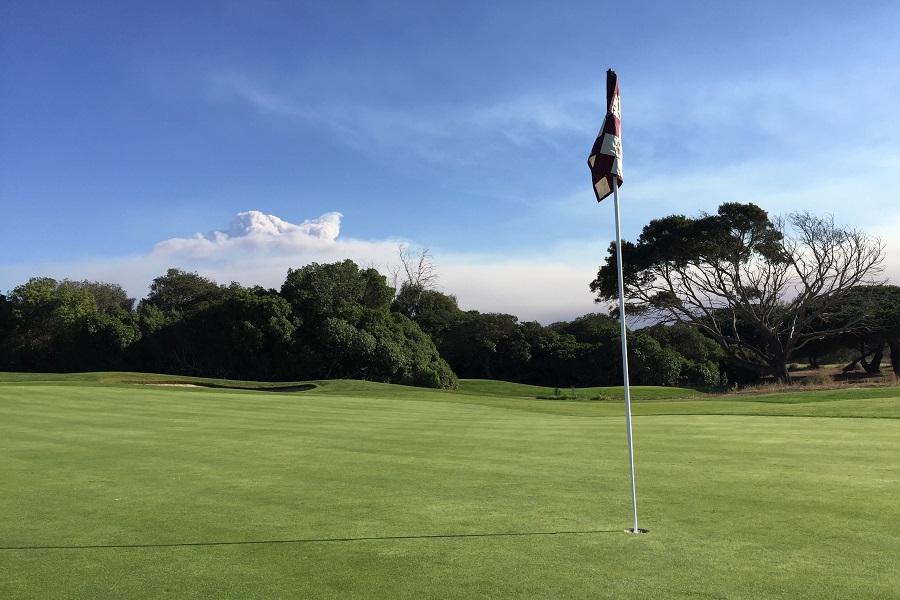 After taking a breather at the rather nondescript 167-yard par-3 fifth, you turn your back on the clubhouse again and face a doozy of a hole. The par-4 sixth covers 420 yards, typically into the wind, and the tee shot feels like it's heading through a narrow chute, with "native areas" lurking left and right. The fairway isn't as tight as it looks from the tee, but miss it and you could be facing a funky lie or even a lost ball. A par on six—the number-two handicap hole on the card—is almost like a birdie.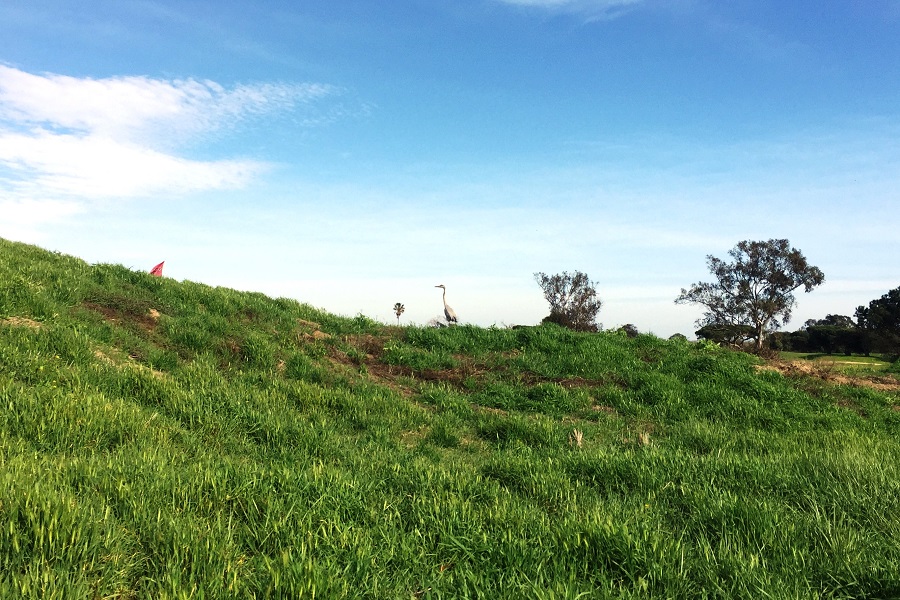 Back toward the clubhouse now for the par-4 seventh (395 yards), a seemingly gettable hole that has some tricks up its sleeve, including a fairway bunker left off the tee that's definitely in play and a vexing green with a sloping back portion that shunts long approaches toward a penalty area. Turn around one more time for the par-3 eighth (164 yards), which often plays longer than you'd think and features yet another heavily contoured green that's sandwiched between a bunker on the left and a marsh on the right that can swallow errant tee shots.
The straightforward 344-yard par-4 ninth invites you to cap off the front nine with a birdie. Just leave your tee shot short of the fairway bunker and you'll have a short iron or wedge into the left side of the double green, which also hosts the par-5 eighteenth.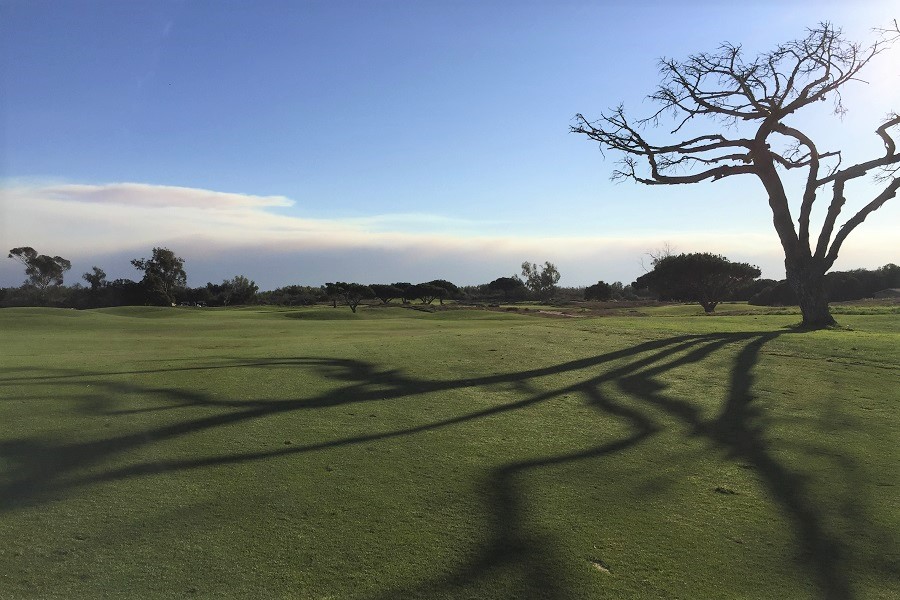 The back nine starts off on a forgiving note, as the 381-yard par-4 tenth offers little resistance unless you spray your drive way left onto the driving range. But things get real on the dogleg-right eleventh, a 378-yard par 4 that demands a precise tee shot to avoid the (currently dry) marshy area on the right and the driving range—OB—on the left. The green is protected on the approach by sand and swales. It's a fun hole once you figure out the right club to hit off the tee, as a big drive past the marsh can trickle into the fairway bunker straight ahead, while laying back from the marsh on the right may leave a tough approach over trees.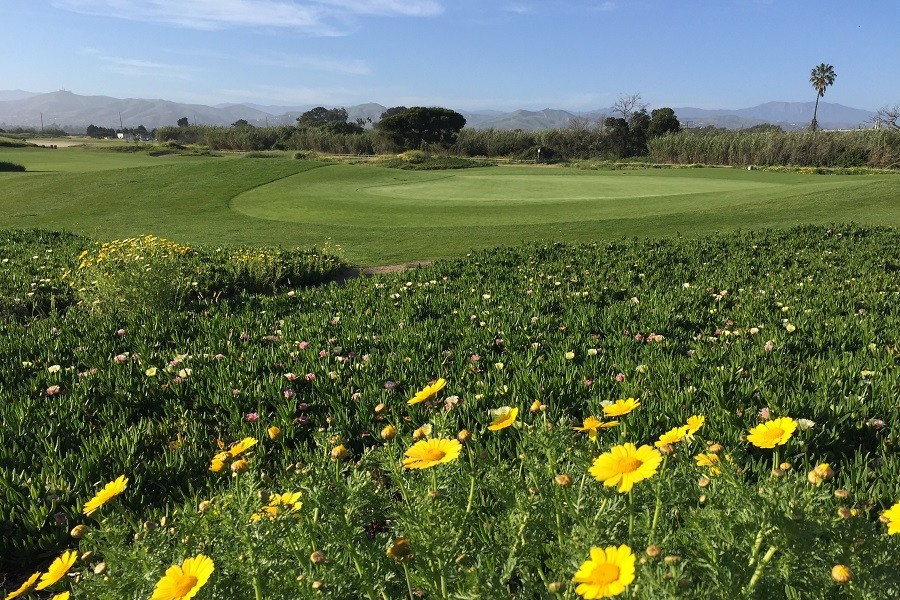 The par-4 twelfth (362 yards) is another seemingly innocuous hole that can pack a surprising punch. Miss left and you've lost your ball in a thicket of reeds as tall as you are, while a right miss could end up in the fairway bunker or worse—the marshy area on eleven is in play here, too. If you manage to thread the needle, the narrow green demands another accurate strike. Stray too far left and there's ice plant, which is despised by golfers and the California Department of Fish and Wildlife alike.
Miss left on the par-4 twelfth and you've lost your ball in a thicket of reeds as tall as you are.
Thirteen (171 yards) is a striking par 3 with an undulating green and marshiness awaiting short and left. Headwinds are often a factor and can add a club or more. Play your tee ball off the higher right side to take the marsh out of play and get a favorable kick. The par-5 fourteenth (548 yards) is a genuine three-shotter that earns its 3-handicap rating with a tough two-tiered green and bunkers in front to snare approaches that land short. It's the last outbound hole before you turn around for the home stretch.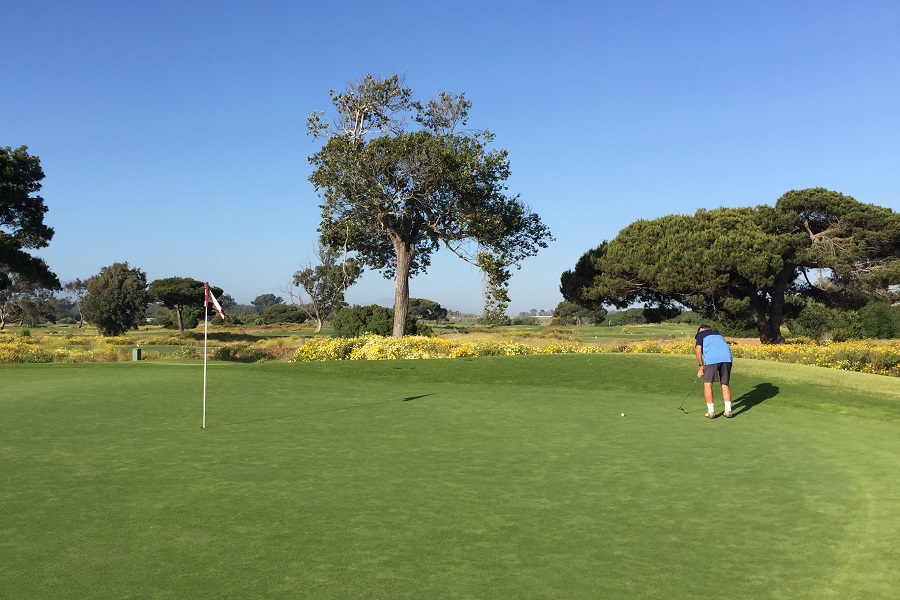 The par-4 fifteenth (357 yards) kicks off a two-hole run that sees Olivas Links at its quirkiest. On fifteen, a sharp dogleg right, you'll have to contend with a boundary fence on the right that extends well down the fairway. You can hit a solid long iron or hybrid along the right side and still find yourself having to aim your short iron over the fence and OB area to reach the green. Wildflowers surround this hole after a wet winter, taking some of the pain out of an errant first or second shot.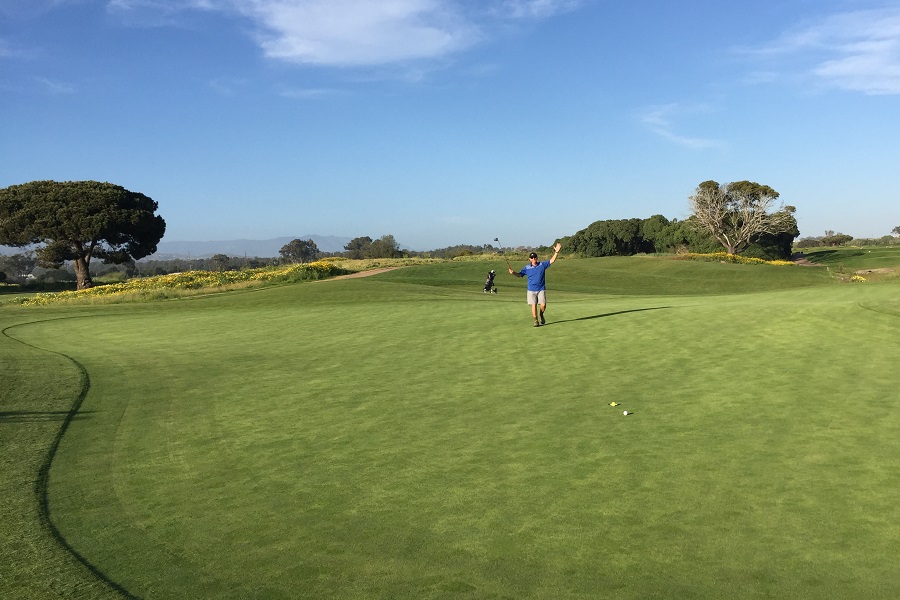 Then there's sixteen (455 yards), a daunting par 4 with another OB fence straight down the right side and a marshy area (the same one from #13) on the left that's conveniently just where a decent left-center drive tends to end up. Compounding matters is the row of trees that runs parallel to the fence on the right and knocks down most attempts to get on in two from that vicinity. It's a hard hole that's fully deserving of its number-one handicap, but not in an endearing way. Unlike almost every other hole at Olivas Links, it's unforgiving off the tee and doesn't give you options. The smartest play might be treating it as a par 5 (it actually is a par 5 from the ladies' tee) and hitting a couple of mid irons to give yourself an easy wedge on the third, but that's no fun, is it.
Unlike almost every other hole at Olivas, the par-4 sixteenth is unforgiving off the tee and doesn't give you options.
Fortunately, Olivas redeems itself on the last two holes. The par-3 seventeenth (149 yards) is a pretty downhill par-3 that's guarded by bunkers short and long, but birdie is definitely in play as a salve for the wound you probably sustained on sixteen. Finally, the par-5 eighteenth (493 yards) tempts you to go big off the tee for a legitimate eagle opportunity on that double green shared with nine, but a marsh lurks on the left to penalize those who overswing.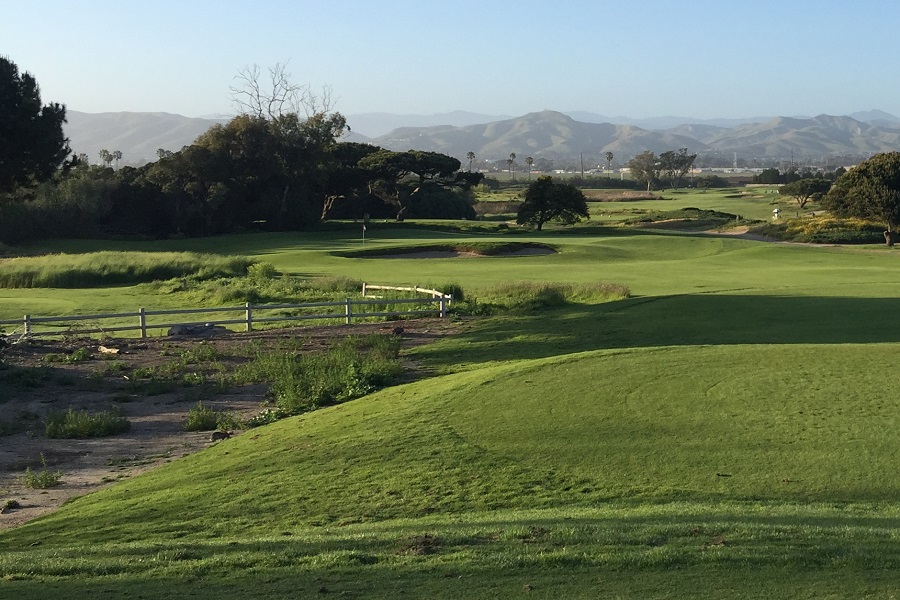 Add it all up and what do you have? Aside from the misfire on sixteen, the layout is cohesive and engaging, while the mild temperatures and coastal breezes make for a delightful stroll any time of year. Bonus points for the lack of homes on the course, too. It's like walking in a park with some great golf besides, which is arguably just how golf should be.
Conditions & Pace of Play
Your humble narrator has played Olivas Links regularly since arriving in SoCal in 2008, and he can't think of a time when the conditions weren't great. Okay, maybe one time the greens had just been punched. But there's no doubt that the maintenance crew are on top of their game here. The fairways are nicely carpeted, the greens roll fast and true, and the course is simply nice to look at. A job well done all around.
The pace is another plus for Olivas. It's rare that a round is truly slow, and oftentimes there's not much waiting at all. That's remarkable given the course's quality and affordability.
Parting Thoughts
You know the kind of course where your eyes light up at the opportunity to play it? Olivas Links is in that category. Surely no golfer has ever said, "Ugh, Olivas. I'm never playing that goat track again!"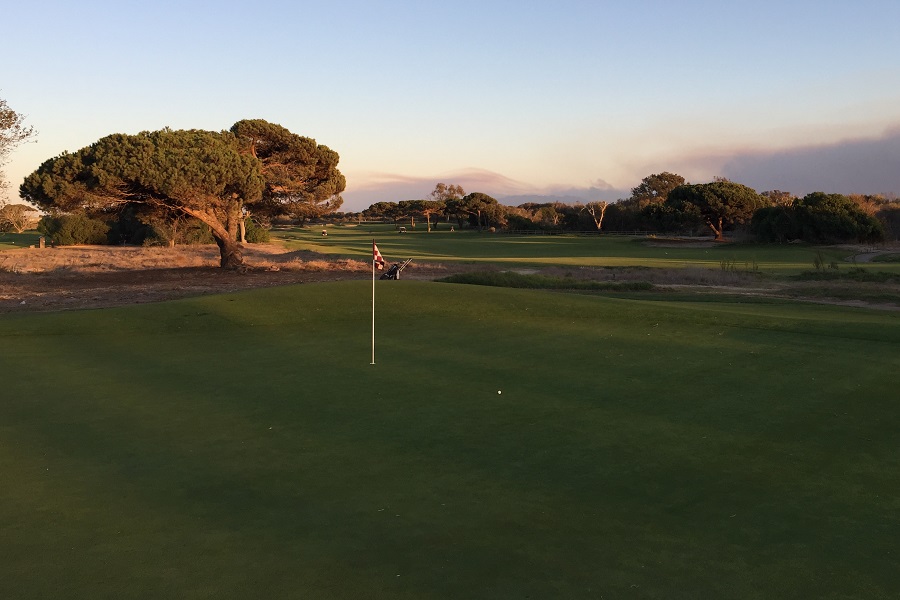 It's got variety, plenty of challenges, a beautiful landscape with landscaping to match, a peaceful setting and a stellar value proposition. There are quote-unquote better courses in the region, to be sure, but few are as satisfying overall.
---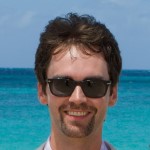 by Josh Sadlier
Based in Los Angeles but always a threat to drive long distances for golf, Josh plays Callaway XR irons and a Big Bertha Titanium 454 driver, which he ferries around in a 1997 Mercedes-Benz E320 sedan that has unexpectedly become his favorite car ever.
Olivas Links Golf Course Details
| | |
| --- | --- |
| GG Rating | 7.9/10 |
| Price | $30 - $61 |
| Address | 3750 Olivas Park Drive, Ventura, CA 93001 |
| Website | Visit |
| Phone | 805-677-6770 |
| Holes | 18 |
| Par | 72 |
| Yardage | 5348 - 6818 |
| Course Rating | 66.0 - 73.3 |
| Slope | 110 - 130 |
| Cart | Available at extra cost |
Olivas Links Golf Course Photos (11)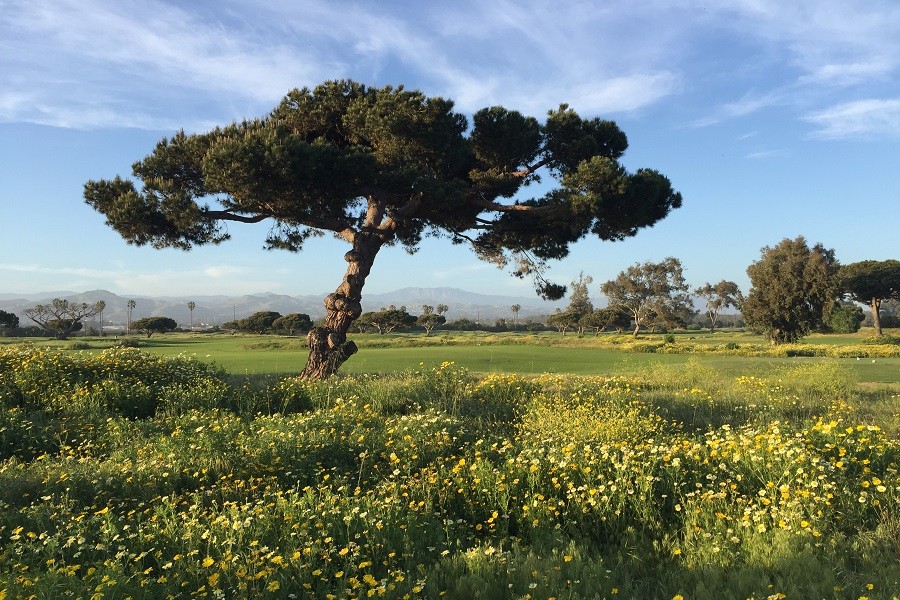 Olivas Links Golf Course: Hole #14 Fairway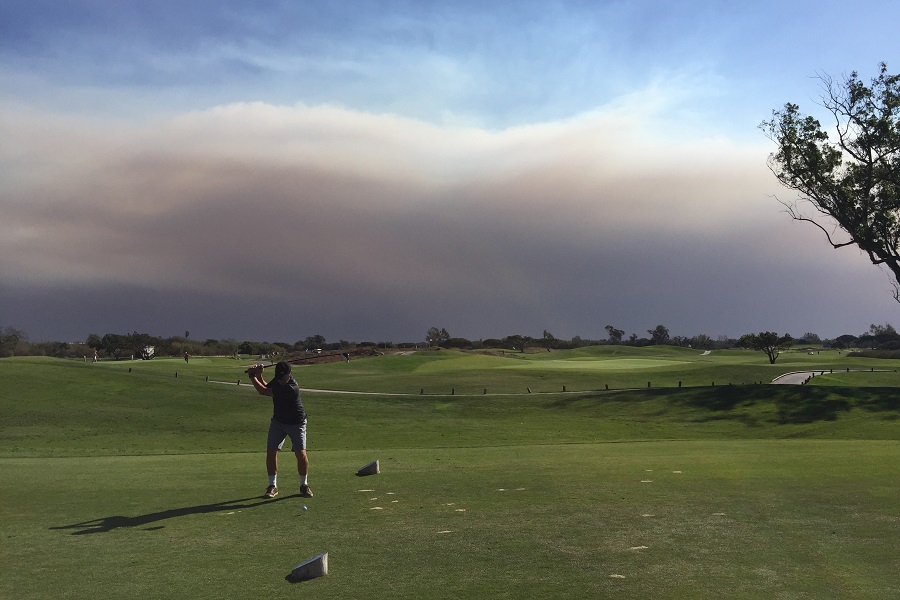 Olivas Links Golf Course: Hole #1 Tee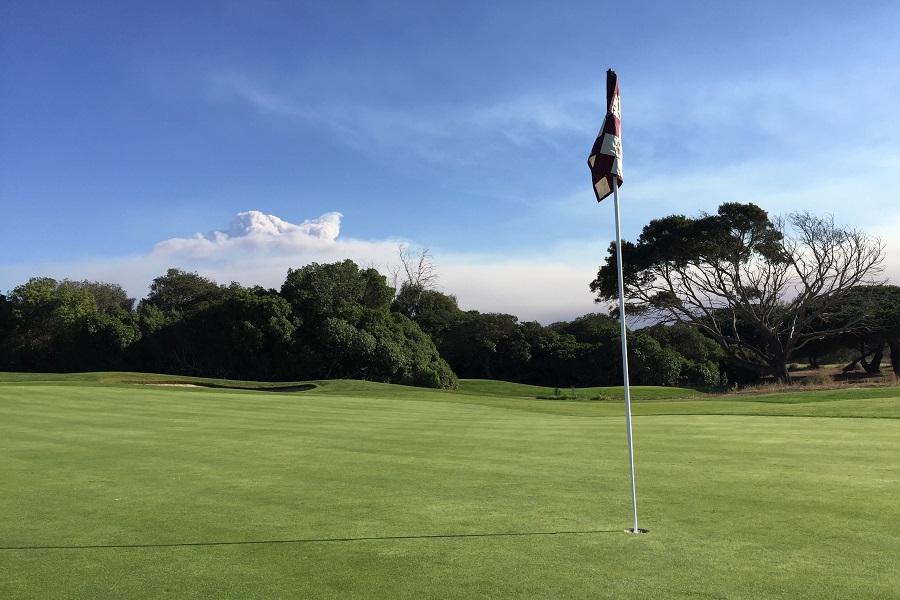 Olivas Links Golf Course: Hole #5 Green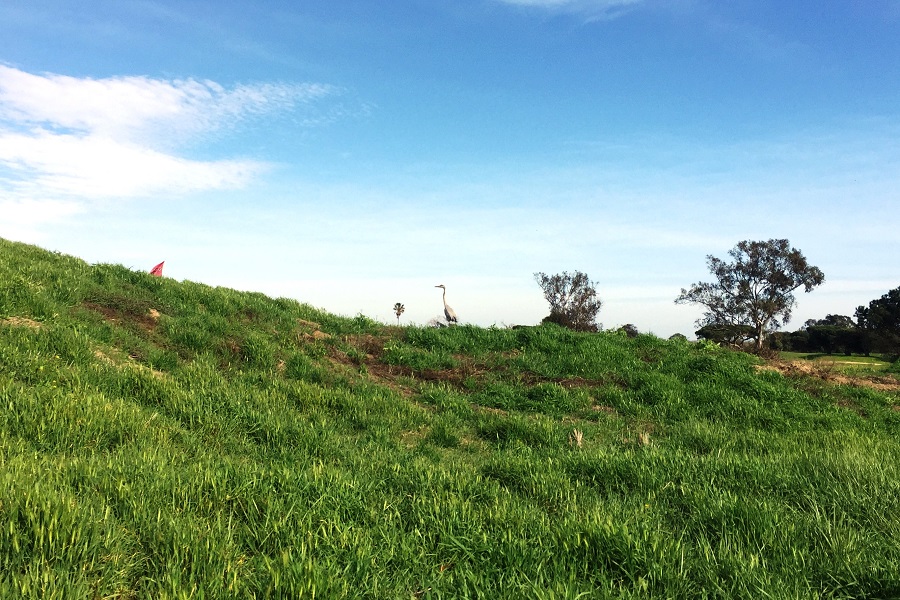 Olivas Links Golf Course: Hole #10 Detail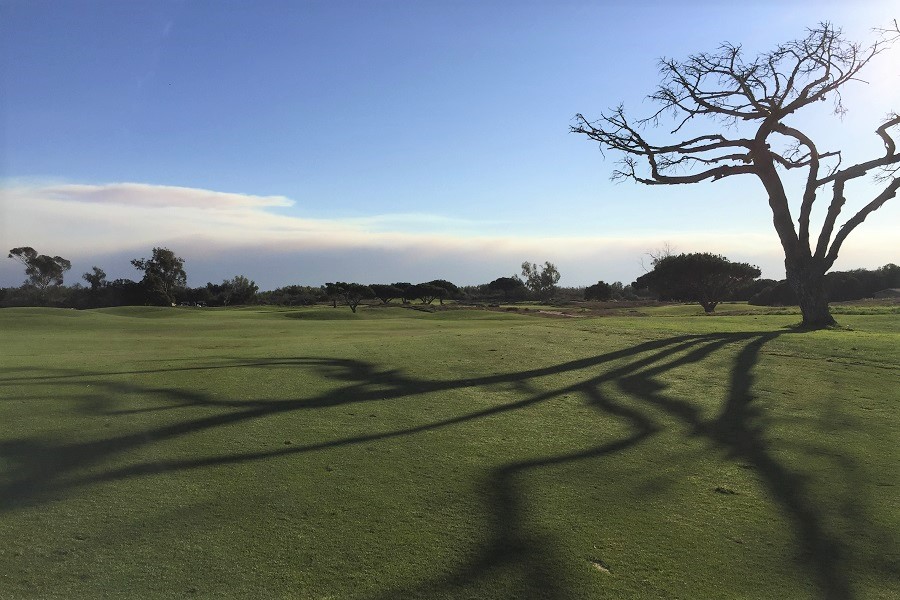 Olivas Links Golf Course: Hole #10 Fairway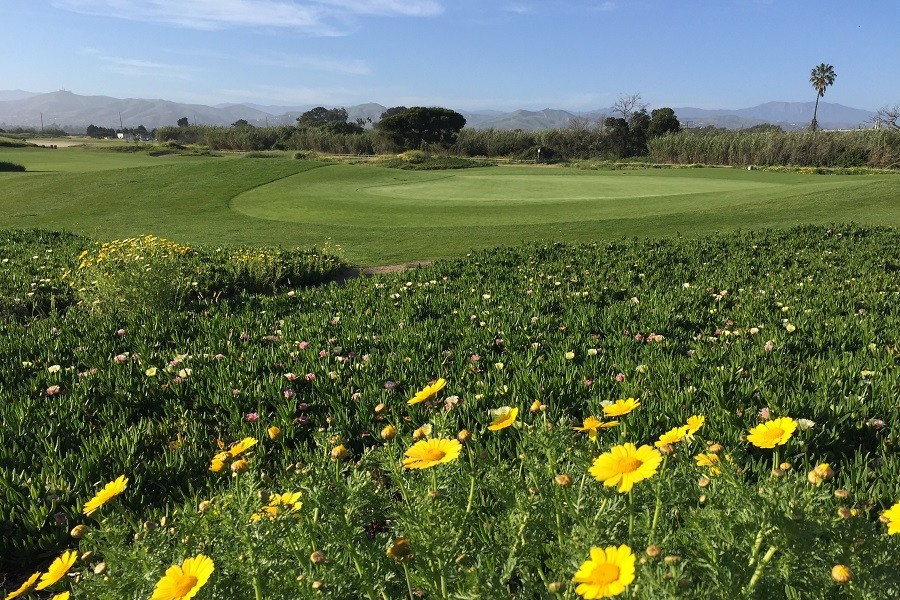 Olivas Links Golf Course: Hole #11 Green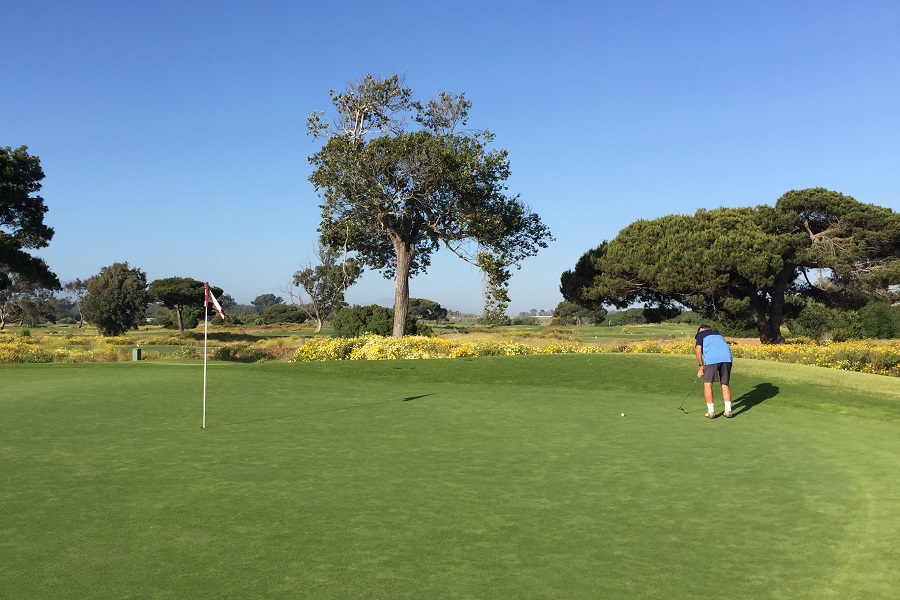 Olivas Links Golf Course: Hole #15 Green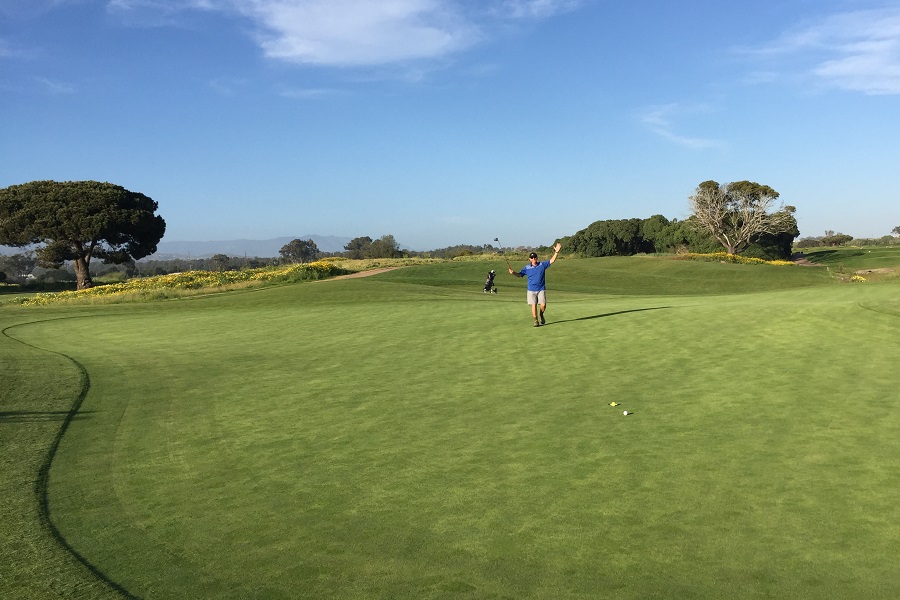 Olivas Links Golf Course: Hole #15 Green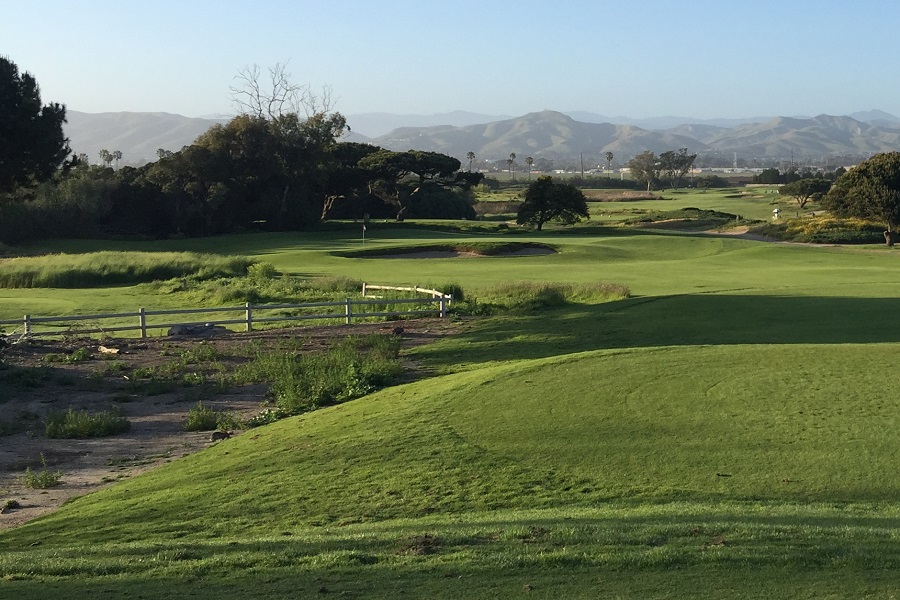 Olivas Links Golf Course: Hole #17 Tee
Olivas Links Golf Course: Hole #17 Green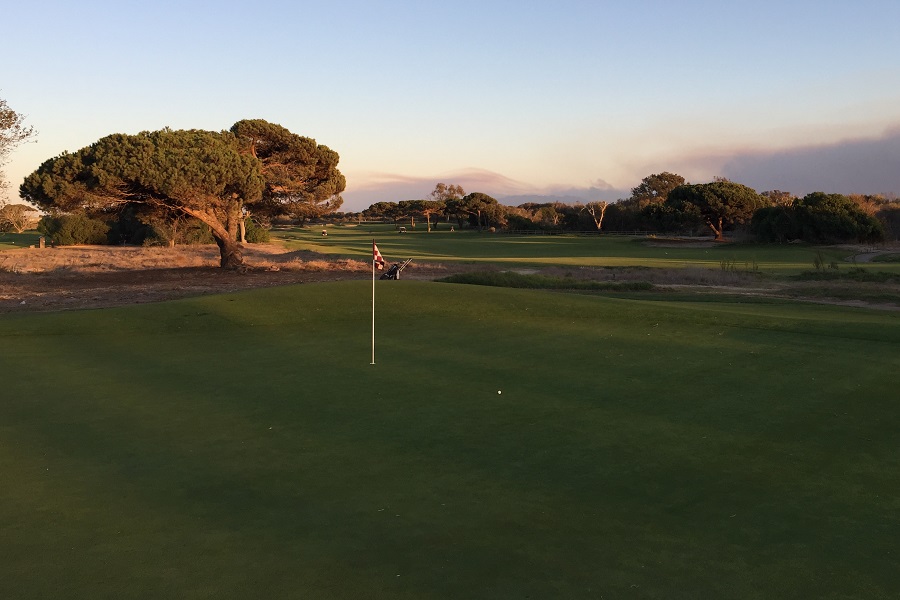 Olivas Links Golf Course: Hole #15 Green
---